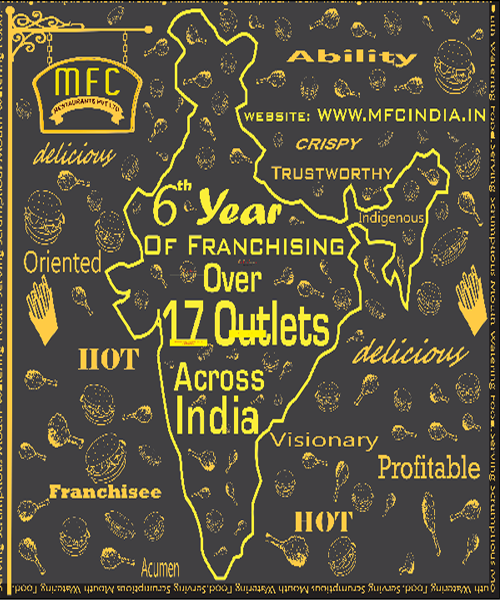 ABOUT US
MR. FRIED CHICKEN
Made of fresh & premium ingredients
At its best, MFC - Mr. Fried Chicken is a guilty pleasure and is still miles ahead of larger chains of fast food.
We are located in some of the major cities of India and very soon MFC Restaurants would bring it's Fried Chicken Franchise in your city as well, serving fast food unlike any other establishment.
MFC India is promoted by Asgar Rangrez Modi and Sagar Bhosale with the encouragement of family and friends, they opened its first fast food restaurant in Mira Road. Since then it has expanded nationally with outlets in Thane, Bareilly, even as far as Assam . MFC Restaurants Pvt. Ltd. has a strong Fried Chicken Franchisee family now.
Today, MFC - Mr. Fried Chicken has turned into a unique dining experience. It is a quaint, friendly restaurants, Dine - In and Take Away's offering personal attention, a quality product, and a genuine concern for customer satisfaction.
Asgar Rangrez: Director - Operations has foremost responsibility of MFC Restaurants Operations and Sagar Bhosale: Director - SM & PSM has the responsibility of Marketing and Sales of MFC Restaurants.
Our food is inspired by the rich culture of India as well as the freshest locally sourced ingredients, vegetables and chicken.
TESTIMONIALS
SOME FEEDBACKS

All you KFC lovers, try this. This guy has got great fried chicken, decent quantities and a free delivery system. A perfect combo for pretty much any occasion. Tried the chicken combo box with 4 PCs of chicken and 4 strips. Pretty damb good. Also, the fish burger is better than the fillet o fish from MCD. Definitely worth checking out at least once.


The food is absolutely delicious. We had fish strips, chicken strips, fish burger and chicken burger with fries. Chicken strips and burger were better than the fish ones. (Order the burgers with cheese) The fries were crispy. Everything was well made. The price is just about right.  I've given it a 5 simply because of the delicious taste! Absolutely brilliant. Foodies must visit.



Nice crispy chicken....We just hoped in the shop wanting to have some light snacks. So I ordered 3 piece chicken and burger meal. Chicken was nice and crispy, burger was better than KFC.